The Little Manor Play Project is excited to open bookings to our 2022 Holiday Playscheme – jam-packed with fun and educational activities.
Held annually, the holiday playscheme provides affordable childcare over the summer holidays to enable parents to re-engage or participate within a work, study, or training environment as well as offering respite to parents who may need it.
Dates: 18th July – 2nd September 2022
Days: Every weekday 8am-6pm 
Ages: 5-12 years 
Venue: Aston-Mansfield Community Centre, 1 Toronto Avenue, Manor Park, E12 5JF
Activities include: challenges, swimming, roller skating, arts and crafts, cycling, animal encounters, cooking, music workshops, team sports, a variety of exciting trips and loads more. 
Book now: 020 3355 3978 or play@aston-mansfield.org.uk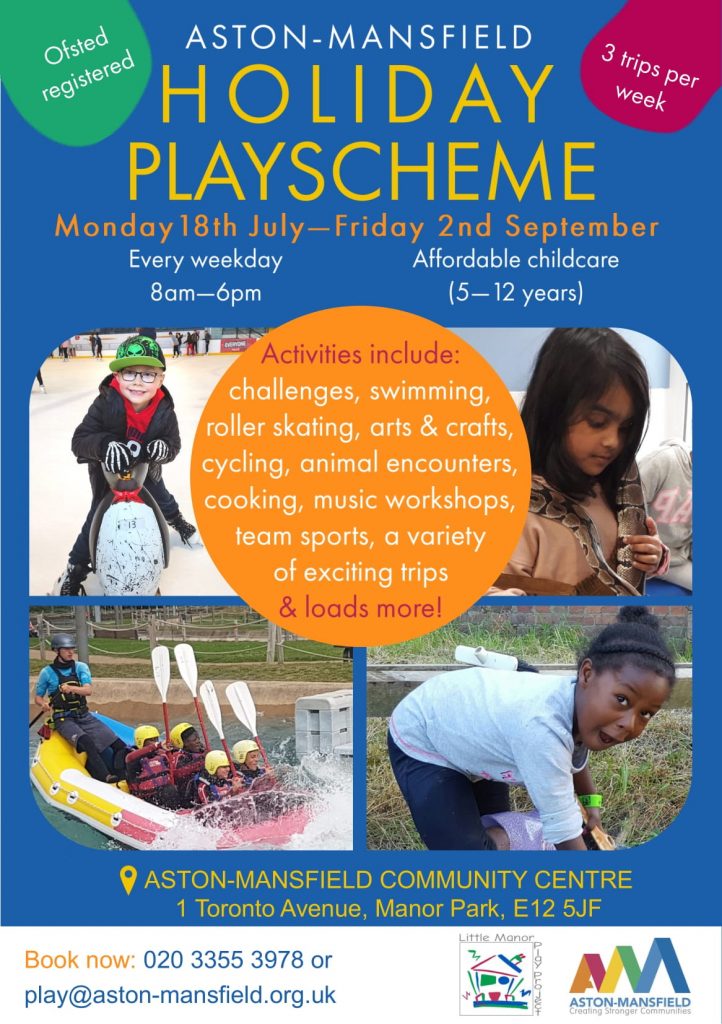 The Little Manor Play Project provides quality childcare services for families with children in Primary School. Provision is available during school term-time (breakfast club & after-school club) and in the school holidays (holiday playscheme). The project caters for children from 5-12 years of age and operates for 50 weeks of the year.  
Holiday Playscheme
During school holiday periods Little Manor organises playschemes. Parents can drop their children off at the project from 8.00am onwards and full care is available until 6.00pm. The programme has a mixture of on-site activities and trips. The project provides lunch and light snacks. It is also possible for children to have breakfast with us on these days. 
The project recognises the needs of parents and children. Needs of parents are addressed through providing a full care scheme which enables parents to re-engage or participate within a work, study, or training environment. It also offers respite to parents who may need it. 
Children's needs are addressed through encouraging children to plan their own programme of activity through the exploration of their interests. All project activities aim to develop the child's self-confidence, self-esteem, and respect for others. Each child is respected for their individuality, and this is considered whenever activities are planned, prepared and played.