A week-in-the-life of our Little Manor project!
February half term was full of a whole range of activities for the Little Manor Play scheme!
To start off the week there was a trip to the cinema to see Shaun the Sheep – a real children's favourite.
On Shrove Tuesday or Mardi Gras, the children enjoyed making pancakes, pasta jewellery, Mardi Gras masks and hats.
Wednesday saw the children off to the Queens Theatre in Hornchurch to see stand-up comedy aimed at children and an afternoon making and stitching bug pillows – as demonstrated on the left!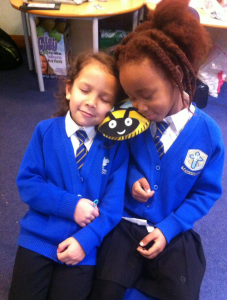 And finally, the week was rounded off with a trip to the Centre of the Cell at the Royal London Hospital.  It was a fantastic venue where the children saw a show about the medicine of 100 years ago, followed by interactive games in a pod suspended above the hospitals research laboratories.
Phew – time to breathe again!
To find out more about our out-of-school core programme, see here.