Paris is a support group for LGBTQ+ young people aged 13 to 19 who live in Newham.
Interested? Click here to send us an email and to join!
What does PARIS do?:
A weekly evening support group – We meet every Thursday, in Newham. These meetings include various activities and trips, along with the chance to just chill out in each others company.
Specialist staff

– Our specialist staff are on hand to talk with you about any sensitive issues you may be facing.
One to one support

–

Mentoring

sessions and a chance to chat about any issues you may be facing.
Education and awareness –

Talking and learning about

LGBTQ+ issues, raising awareness in the local community.

We aim to:
Support LGBTQ young people in their personal development needs by providing access to a safe non-judgemental service with a team of expert youth workers
Empower young people to be proud of identifying as LGBTQ.
Educate our members to make informed choices about positive mental health, self-harm and safe sex practices.
Challenge

stereotypes and homophobia in generic settings such as local schools and colleges.
If you are interested in hearing more about PARIS, what we can do to support you or to get regular updates about actvities we have planned each week, please email us HERE . All communication will be undertaken confidentially and your details will not be shared with anyone – we look forward to hearing from you.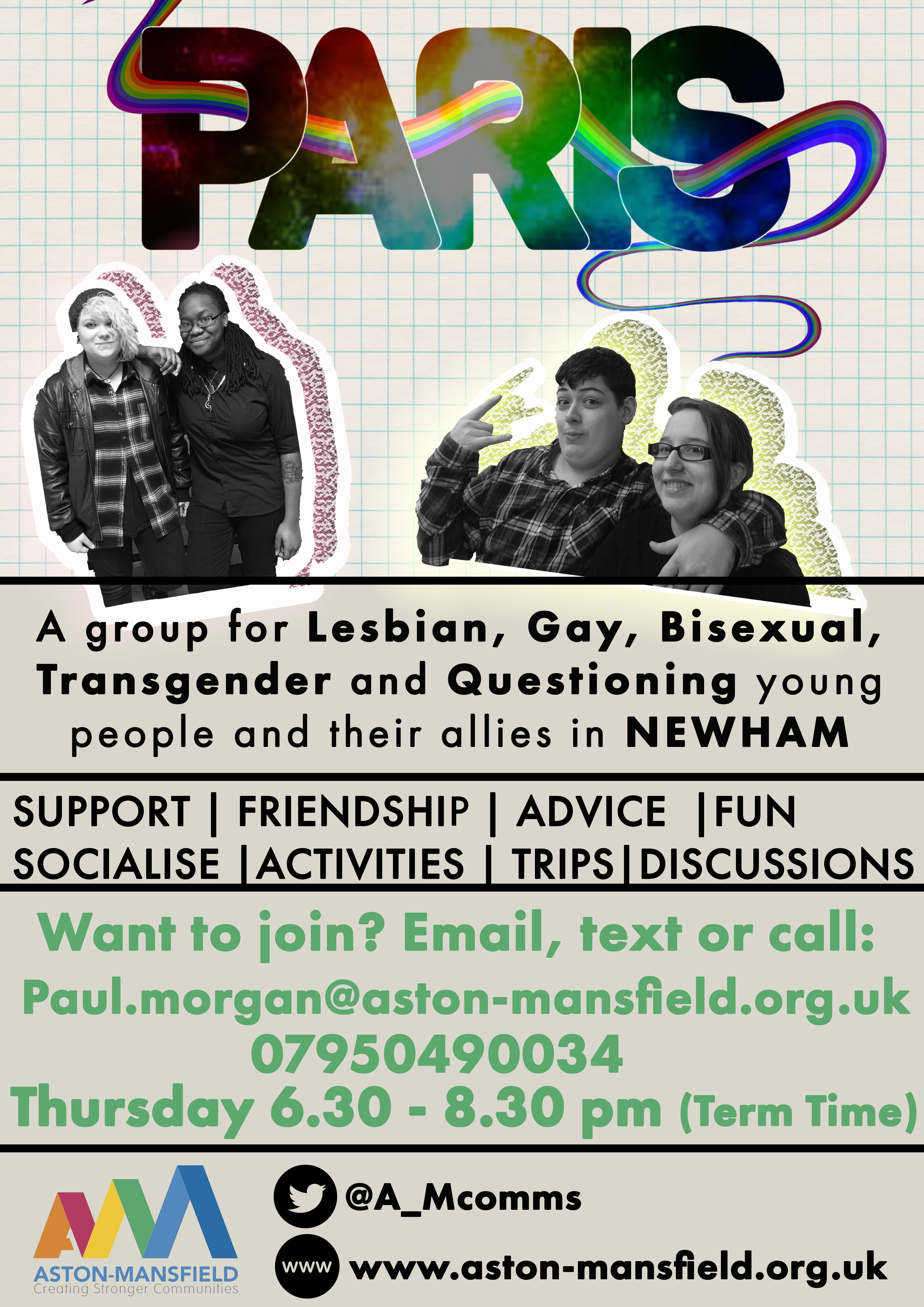 What people say about PARIS:
For me, Paris is like my family; you don't have to act or pretend to be someone else, or worry about what you say or do. Now I talk to everyone and sometimes I talk too much! You couldn't imagine me a year ago.
I go to another youth group, but you kind of have to keep your voice down, as there are some people who if they heard that you're gay, they'd come up to you and be 'Oh you're a lesbian – let me change that.' And although there are some people who are accepting, you just can't be yourself as much.
When I started college I was not the person that I am now. To put it in simple words I was really shy, didn't talk to anyone, avoided humans. The change in me has come just through Paris; I saw that people here were talking to each other and proud of who they were so that made me be who I am now.