Welcome to our Impact Report – your chance to see everything we have been up to last year from 1st April 2021 to 31st March 2022. This page is just the highlights, you can download the full Impact Report here:
Little Manor Play Project
High-quality, affordable wraparound care for children in Newham aged 5-12 and comprises breakfast, afterschool and holiday provision. The project helps the children develop through play and enables parents to participate in work, study, training or benefit from respite.
140 CHILDREN
participated in our face-to-face sessions
61 FAMILIES
used the Little Manor Supermarket
229 FAMILY MEMBERS
benefited from the Little Manor Supermarket
Little Manor Supermarket
Our free weekly food distribution service where families are given a personal time slot during which they can collect various food products, talk to staff and get support.
"Thank you for all your support to me and my children. You see, when Lockdown was at its peak, I was unable to queue up at the grocery stores to buy food for my family because I am extremely medically vulnerable. So, the food that you have been giving us enabled me not only to feed my children without stress but also to save money.
In addition, my husband passed away during lockdown. So, I had to adjust to a life of a single parent. Some days when I did not feel like cooking at all, I will heat the cooked meals and feed my children. You gave me access to Wi-Fi in your centre and helped me deal with some of my husband's affairs, putting me in contact with the Embassy and bereavement services.
THANK YOU to you and to ALL the people who are contributing to this food and support service. You are saving life without knowing it." – a service user
Holiday Activities & Food Programme
This year, we expanded our holiday programmes to include many more vulnerable children and their families, supported by funding from the London Borough of Newham/National Government Holiday Activities and Food Programme (HAF).
80 VULNERABLE CHILDREN
attended our holiday programmes
The Manor Transitional Youth Project
The Manor is a project for young people aged 11-14, aimed at building confidence, resilience, citizenship, independence, and diverse young leaders.
Young Facilitators
Our youth work model includes employing young people (18-25) to work as paid young facilitators, in developmental roles, usually lasting around 12-18 months.
With support and training from more experienced youth workers, the young facilitators play a key role in engaging and supporting young people across all our youth programmes whilst co-producing and delivering activities, workshops and learning days.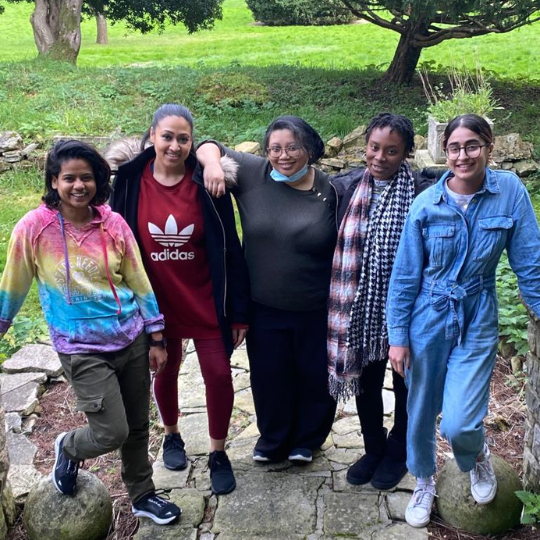 "I learnt how to work with groups, my confidence talking to people and in public increased and I think it was a stepping stone to getting into field that I am in now, supporting young people to get into employment.
The support that I received made me feel like I could make mistakes and [the support] was always available, off line, out of hours, over dinner etc. One of the key things I have learnt is how to better listen and plan my time better and that has helped at work but also in my personal life." – young facilitator 
"The Young Facilitator role really helped me develop myself. I wasn't very good at admin before I got the job but Yokeu and Shanaz and the processes we had to follow means that I had no choice but to do admin every week.  
 It hasn't always been easy because I had other jobs and family commitments but the flexibility of the role allowed me to do everything I needed to do." - young facilitator
Youth4Youth Project
Our leadership development scheme for young people from around Newham. A diverse group of young people from across Newham who may not ordinarily meet or befriend one another come together for a series of team building and skills development sessions.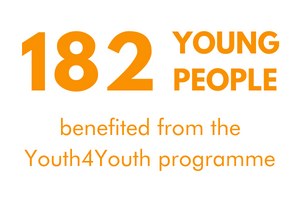 As part of their journey toward becoming a change agent in their community, young people plan and deliver events and campaigns at different scales growing their confidence, experience, and networks.
100% of YOUNG PEOPLE
stated that overall the SKY programme has helped them to improve their skills and knowledge for employment
S.K.Y Programme – Skills, Knowledge in Youth
Our youth employability programme teaching transferable skills through engaging in learning days covering personal branding, interviews, and assessment centres, exploring careers and interests, confidence at work as well as developing professional and social networks through networking events. 
"I was grateful that I was able to work with different departments during my internship placement, as I was able to pick up lots of new skills and also had an insight into different roles ranging from finance, to I.T to Comms, I feel a lot more confident about my CV now, as I can put down more skills." – a young person
Racial Justice
Health
Youth Collective
Just Connect
Racial Justice
65 YOUNG PEOPLE benefited from 4 activities on the topic of RACIAL JUSTICE which were researched, planned, and delivered by 9 young people with support from our Young Facilitators.
Health
Youth Collective
Just Connect
Community Connectors
Community Connectors support service users within Newham Primary Care Networks (PCNs) who are experiencing mental health difficulties. They do this by assisting people to access sources of support, which are provided by a range of organisations, including the Voluntary and Community Sector.
108 SERVICE USERS and close relatives received support
Fitter Finance Programme
The Fitter Finance programme aims to improve the financial management of micro and small community and voluntary sector organisations in Newham.
AMCT Seed Grants
AMCT Seed Grants are for small, ethnic minority, community groups and charities that have an annual income of £10,000 or less. Groups must be based in Newham, with a focus on supporting and promoting health and wellbeing for Newham residents.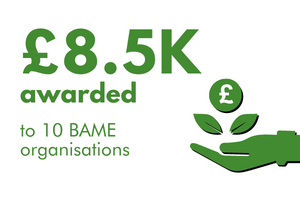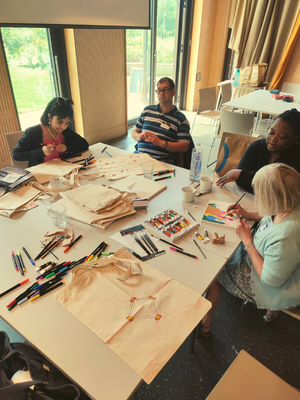 Volunteering
Our volunteers come from diverse backgrounds, including neurodiverse, long-term unemployed, undergraduates, and postgraduates to those volunteers with few to no qualifications.
45 PEOPLE VOLUNTEERED with us this year
"When I started volunteering, I had anxiety problems. I needed a lot of reassurance and doubted myself a lot. Keeping a work diary has shown me how much I have grown. I have been given more responsibility, and I now help to train new volunteers when they start." – a volunteer
Income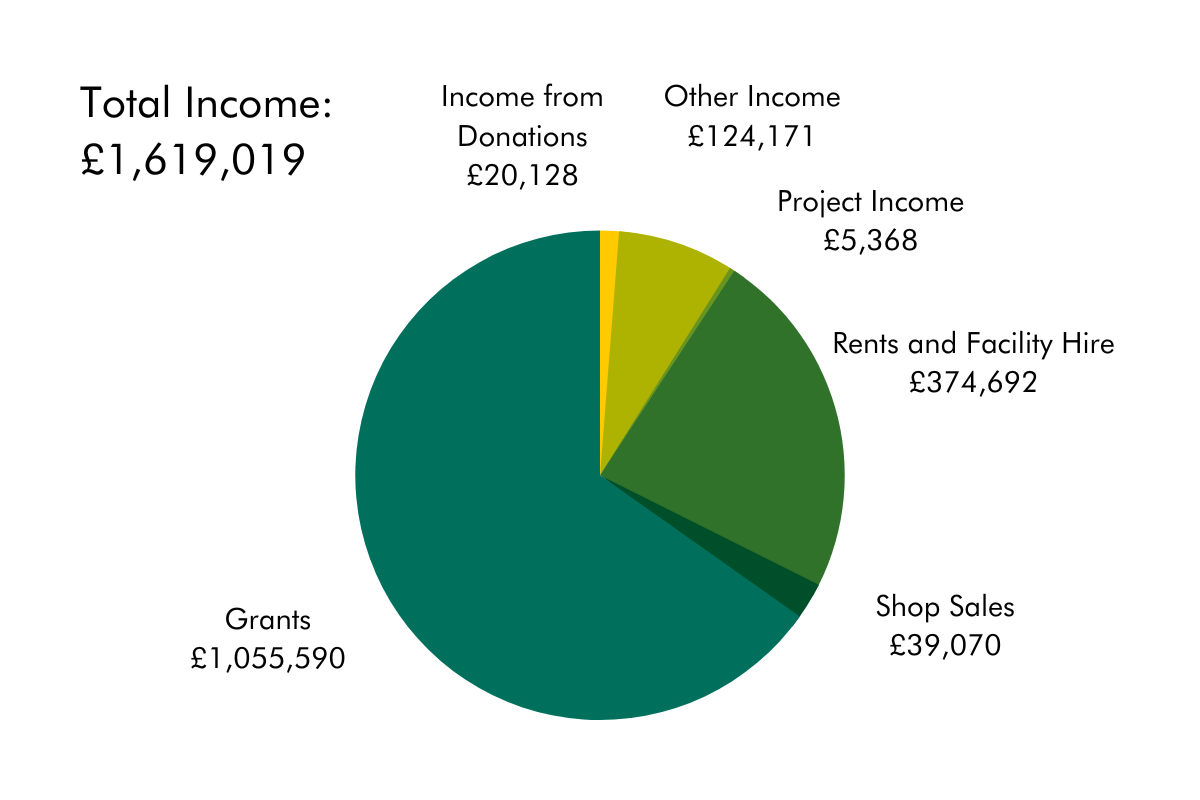 Expenditure
Follow us on Social Media: